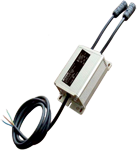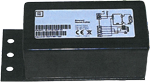 Controller is designed to control a single light source (luminaire) in the external light control systems (street, park, etc.). The controller uses a standard LonWorks communication via the power grid (PowerLine communications), which significantly reduces installation costs.
Cooperation with electronic and electromagnetic ballasts.
Smooth dimming (0-100%) and discrete (two or three levels of brightness).
Independent control of each lamp.
An independent measurement of energy consumption of each lamp - the possibility of individual settlements.
Expanded measurement module (power, passive power and active, cos φ, THD) - optimum management of the mains power.
Monitoring of lamp status (detection and accidents reporting) - lower maintenance costs.
Flexible and distributed network structure - greater functionality and reliability.
Advanced routing algorithms - large range network.
Low installation costs - communication with the power supply 230VAC.
Installation in the luminaire or lamp pole.
Firmware update through the network.
Compatible with LonWorks.
Compatible with LonMark.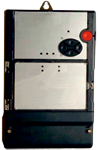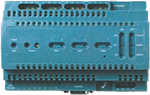 GreenLight network server allows management of the above mentioned controllers, controls various light source (street lights, parks, etc..). Communication with controllers is via supply network (PowerLine communications) in LonWorks standard.
Flexibility - the ability to precisely adjust the software to needs of the user.
Ease to use - Web Server 2.0 - Access via web browser from any place, on any hardware (PC, tablet, smart-phone).
Safeness - supports HTTPS / SSL.
Control, data acquisition and alarming - supports FTP and e-mail.
Working alone and/or in large systems.
Support for many protocols - ease of integration with other systems: ISO / IEC 14908-1, ISO / IEC 14908-4 IP-852, Modbus, M-Bus, SOAP / XML.
Communication via Ethernet, analog modem, or GSM/GPRS/3G.